Last weekend we hosted our second craft workshop! We had a great time and are beyond happy with the outcome. Our event took place at LUX Art Institute where we were given a tour by the lovely Carla Roemer. At Lux, they host 5 in house artists a year and display their work in their exhibit. The artist we got to learn about was Vibha Galhotra. We loved learning about her art and were inspired by her creations. After the tour of the gallery, we got to work on our own projects. We took magazine clippings, tissue paper, sequins, and other supplies to make a collage inspired by Vibha and Alison Renshaw, a local artist whose work was also displayed. All of the projects turned out amazing and are pictured below. Thank you so much to everyone who joined us or donated and an extra huge thank you to Carla Roemer and Emily Howard!



We also have more pictures posted on our 'photos' page.

​
Powered by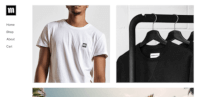 Create your own unique website with customizable templates.
Photo used under Creative Commons from ralph and jenny